In the coming months, Sofo Foods will reveal four new trailer designs. A major re-design project is nearly complete, that includes designs featuring pizza, pasta, salad and a sub sandwich. Each side of the trailer will have a completed product on one side and the ingredients to make it on the other side. The designs were created using custom photography of actual products we sell and the final menu items created. Each truck in our fleet is a moving billboard and a direct reflection of the image of our company. All of our marketing efforts combined don't have the visibility and potential to reach new customers like our fleet can. Here's a sneak peek at what you can expect to see soon.
January 30, 2017
Take a look at these huge condensers that have been installed! These condensers will refrigerate the expansion of our cooler and freezer. Here's a fun fact for you: The temperature of the freezer will be 10 degrees below zero. Brrrrrrrr
In November Sofo Foods expanded its corporate offices into a new building at 4444 Bennett Road Toledo, Ohio. The new location adds new accounting and executive offices. The site is formerly the Cooper Smith advertising building.
Stop by and see the Sofo crew! We'll be at the Mid-America Restaurant Expo in booths 617-621. This marks 25 years for us at this annual show in Columbus, Ohio.
New changes are coming to our online ordering system September 1, 2015. Powernet will now be called SORT: Sofo Online Reporting Tool.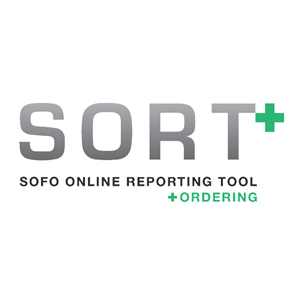 For customers who do not currently order online, but would like to have access to the robust reporting features offered to online ordering users, we are now proud to offer the Sofo Online Ordering Tool, SORT.
For customers who want more control over the ordering process we will now be offering SORT+. This offers all of the same functionalities as SORT, PLUS online ordering.
Current Powernet users will only notice a change in name as the web address and interface will remain the same. The new branding of our online ordering and reporting gives our customers the ability to gain greater real-time access to their account information as well as order at their own convenience.